Instructions on how to use JobTeaser
By selecting a degree programme you are able to see the general content as well as the possible degree programme-specific content. You do not have to select a degree programme to see the Open University's instructions.
Search for degree programme
When you search for a degree programme by name or by part of the name the options in the list of degree programmes below the search field is narrowed down. After this you have to choose the degree programme from the list.
JobTeaser is a service in which you can determine what kinds of jobs and events you want to view on your JobTeaser dashboard or receive via email. The service is used by over 700 institutions of higher education and universities throughout Europe, making its offering of jobs and traineeships broader than the Finnish job market. 
First login
1. Important! In order to browse jobs after logging in, under Courses, select your field of study. Only this way job offers by Finnish employers will be directed to your dashboard. 
2. Log in:
Log in as a student with helsinki.fi user id
Log in as an alumna (when your helsinki.fi user id is not anymore valid)
3. On the next page, you can choose what kind of jobs you are interested in. These choices affect which job offers you see automatically. You can also edit these selections later, and if you want, you can browse all open places.
4. After logging in, you can edit your profile and search criteria.
Creating your profile 
In your profile, you can add a short description of yourself, your social media accounts, information about work experience and education, as well as enter your language skills, including competency levels.  
You can update your profile picture, location, campus and field of education by clicking the pen icon.  
Your interest in job offers 
You can select whether to make your profile public. If you want to be open to potential job offers, you must activate the "Open to offers" button. If this is the case, you should also upload your CV and update your profile information. The only mandatory information is your name and email address. 
JobTeaser is a commercial partner of the University of Helsinki, and is also seeking potential employees for its clients. If you are selected for a list of potential applicants by JobTeaser, you will be sent an email stating you have 72 hours to decide whether you are interested in the proposed position and want to be considered in the recruitment process. The client company makes the ultimate decision. 
If you have indicated that you are open to offers, your information will also be sent to the University of Helsinki's Talent Bank. The University of Helsinki's Career Services may provide University partners access to the Talent Bank to help them find the expertise they need and contact students if necessary. The companies that have been given access are listed under the Companies tab with a "Talent bank" badge.
Browsing jobs or setting search preferences 
Try different searches under the Jobs tab to find search criteria that work for you. When you log in, you can remove your former search terms by clicking on the rubbish bin icon, which will give you a 'clean slate'. Your original settings will remain as long as you do not save your search experiments. Define your search preferences from the "My criteria" link on the Dashboard or under the Jobs tab. 
In My criteria, you can set your preferred language for the user interface, set up a job alert or subscribe to a weekly newsletter of events published on the JobTeaser portal. 
The Jobs tab 
 
If you select "Exclusive to our students & alumni", you will be able to see positions posted by Finnish employers through Aarresaari.net. The results will be similar to the old Rekrynet noticeboard. You must have selected your field of study. This selection means that positions posted by employers on Aarresaari.net will be shown on your dashboard. 
The Contract tab will show you a drop-down menu with various employment contract types, such as part-time jobs, internships or summer jobs. 
Under Job categories, it is better for your criteria to be too broad than too narrow so that you do not miss any job opportunities. For example, law students should select all fields of law. Employers often use the "Student job" category. Note that you will only be able to see jobs from the categories you selected. Experiment with different options. 
There is no need to select any Industries, unless you are especially interested in a specific sector. The industry of the organisation does not define the types of positions available. 
Similarly, the Start date is not a required selection, so unless the starting schedule is very important to you, do not select it. 
There are 12 Language options. This selection will determine the languages of the job advertisements in your search results. The most common languages for advertisements are German, English and French, but Finnish is the fourth most common. Select the languages that you are comfortable working in, and note that Finnish job advertisements may be written in English even when the position requires fluency in Finnish. To limit your search by region, use the Location tab. 
Location
Select all cities and regions where you could consider working, or select all of Finland. You only need to do this once if you save your search criteria. At the moment, the system does not recognise the hierarchy of locations, meaning that selecting "Uusimaa" will not yield the same results as selecting all cities in Uusimaa. 
Applying for a position 
Read the employer's description of the required application documents carefully and make sure your application complies with the requests. 
JobTeaser offers employers two ways of receiving applications. The applications can either be redirected to the organisation's own recruitment system or sent to the organisation's JobTeaser account and the email address provided by the employer. In the latter case, the system will generate an APPLY button for applicants. If the application is directed through the system, the employer may choose whether they want a full application or a brief cover letter to accompany the CV. 
Despite our best efforts to provide clear instructions and simplify the process, some employers may have selected to receive brief cover letters even though the text of the advertisement may specify that a full application is required, sometimes alongside other attachments. If only one attachment may be added to the application, save all required documents (CV, application, other attachments if necessary) into a single PDF file and upload it from your computer. In general, we recommend you check your CV for each application to make sure it is tailored for that specific position. 
Even though we moderate the positions advertised, positions may be announced by all universities using JobTeaser in Finland, so the University of Helsinki cannot be responsible for all advertisements.
Are you graduating?
When you are about to graduate and your helsinki.fi email is about to expire, you can continue to use JobTeaser by changing your helsinki.fi email from your Account Settings to the e-mail you use after the ID expires.
Steps:
1. In your Account Settings, change your helsinki.fi e-mail address to the e-mail you use after graduation.
2. You can log out of JobTeaser. In another browser or incognito window, open JobTeaser via the alumni link:
https://helsinki.jobteaser.com/en/users/sign_in
3. Order yourself a new password "Forgot your password?" function.
4. After changing your password, you can continue using your JobTeaser account via the alumni link.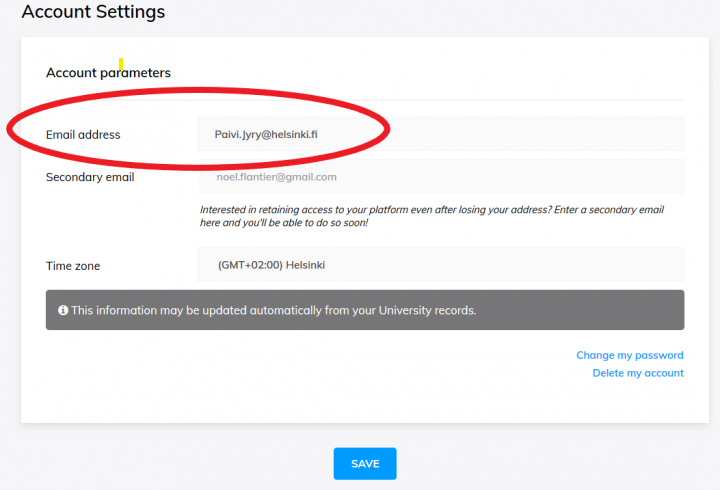 Events   
The Events tab features all events organised by the University of Helsinki Career Services and its partners as well as the corporate partners of JobTeaser. You can participate in all events listed on this platform.   
Career Services  
Under the Career Services tab, you can find all content produced by Career Services on traineeships and job-seeking as well as instructions for using JobTeaser. In addition, this section features up-to-date content regarding application periods for programmes that might interest students, events, as well as articles on traineeships, job-seeking and other Career Services themes.  
   
JobTeaser also provides its own job-seeking content for the service. This content is in English and you can access it through  JobTeaser's Advice link, or by switching the interface language into English from the bottom menu. Remember that this JobTeaser material is from a Central European context and the advice may not be directly applicable to the Finnish culture of job-seeking. However, this material may be particularly helpful if you intend to apply for positions in the European job market. 
Companies  
Companies and organisations can present their corporate culture and recruitment needs via profiles on JobTeaser. You can find out more and follow companies that interest you. You'll find Finnish companies at the top of the list.
Back to the Available Jobs and Traineeships page.